Three ways cash vault services save money and help customers
Image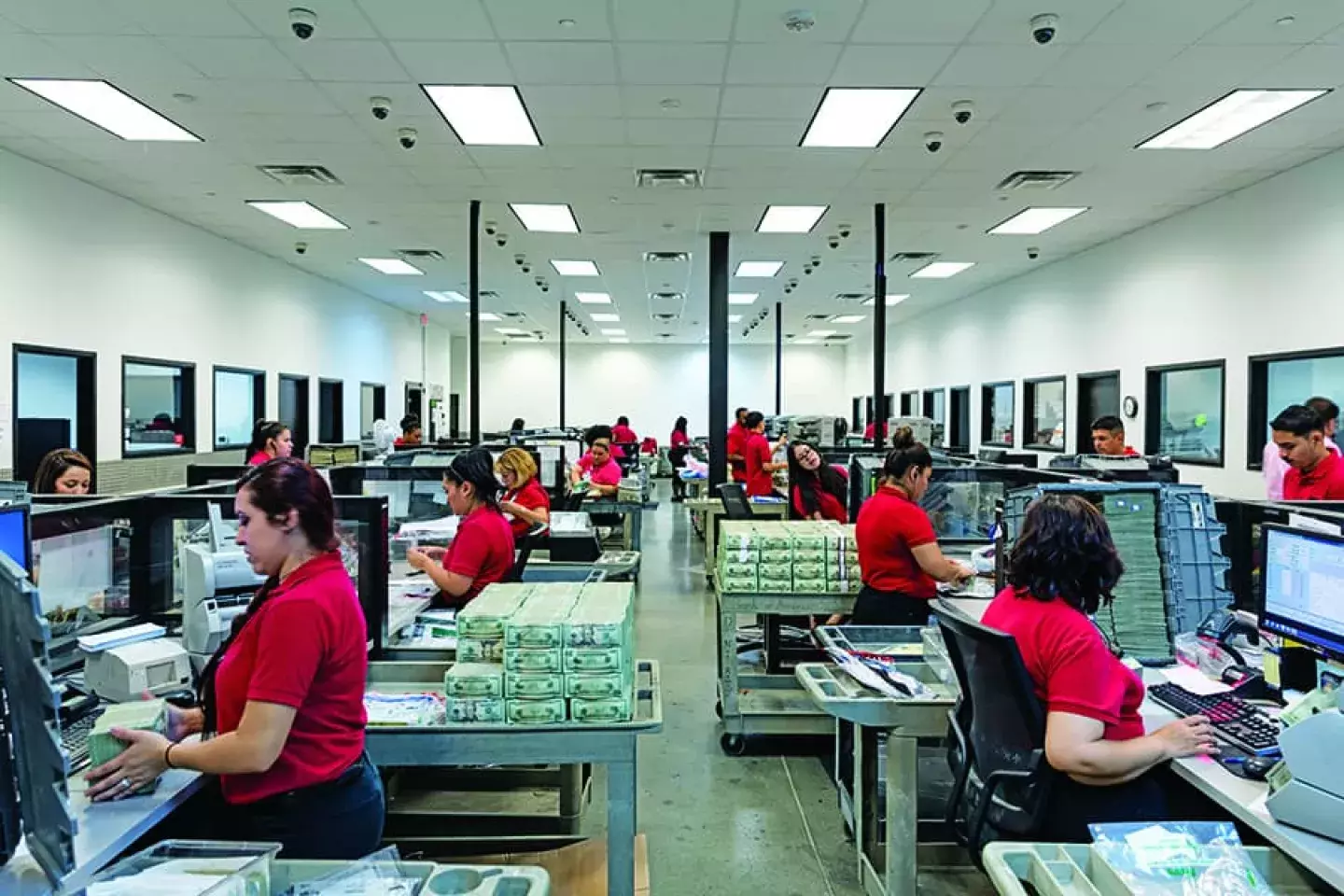 Financial institutions need efficient strategies to keep overhead costs down and their resources focused on important service offerings like cash handling and management. Investing in an outsourced cash vault model is one way they're achieving this. Robert Lynch, Senior Vice President of National Financial Business Development for Loomis, shares a valuable insider perspective on the top ways financial institutions benefit from outsourcing their cash processing needs, regardless of their operation's size.
Save time and money
Financial institutions that aren't working with an outsourced cash vault partner typically use one of two traditional methods: a correspondent bank model, or a Federal Reserve direct model. Both of these methods incur additional costs and create inefficiencies when compared side-by-side with an outsourced model.
"When financial institutions work with a correspondent bank, it often leads to process inefficiencies that can negatively impact their operations," says Lynch. "Organizations need to consider the effect of delivery delays and other unforeseen schedule setbacks, as well as the financial impact that service markups have on their operation's cash processing budget."
Financial institutions that work directly with the Federal Reserve also face cost inefficiencies.
"Banks with more than 10 branches or endpoints incur additional charges from the Federal Reserve," says Lynch. "For larger operations, it's ultimately going to cost them more to deal directly with the Federal Reserve than it would to outsource to a processing solution provider such as Loomis."
Refocus cash inventory to better serve customers
Another downside for financial institutions that work directly with the Federal Reserve is not having a solution that's scalable for their cash volume needs. Banks with a smaller footprint―less than ten branches or endpoints―may avoid costly service charges from the Federal Reserve, but that doesn't mean it's the most effective option for their organization. The Federal Reserve requires banks to order in increments that are much larger than what an outsourced vault model would require, meaning they have to keep a much larger volume of cash on-hand.
"By outsourcing to a provider like Loomis, financial institutions can order cash by the strap level instead of bricks, greatly reducing the amount of cash on-hand at individual branches," says Lynch. "By freeing up that cash inventory for services like loans and deposits, banks are able to refocus their resources on the offerings that attract customers and sustain their business."
Gain better visibility across the business
An increasing number of financial institutions are shifting to partial or fully outsourced cash vault models, and there are certain key qualities to look for when selecting a provider. While advanced technology is at the forefront of selection criteria, nearly equal in importance is an effective communication and customer reporting platform for total visibility of the cash management process.
"First and foremost, financial institutions should look for a partner that offers a comprehensive solution of transport and processing throughout the cash cycle―not only for their internal business, but for their customers and commercial account needs," says Lynch. "That includes technology that enables them to view their inventory at every step of the cycle, view proof of delivery online in real-time, and that offers them superior quality when it comes to monitoring and maintaining accuracy."
The Loomis difference
Loomis has built a long-standing reputation as a leading provider in cash management services through an ongoing focus in three core areas: technology, infrastructure, and people.
By combining extensive knowledge in cash logistics, the highest benchmarks of quality with internal initiatives like GoGreen, and treasury products like SafePoint®, the industry's most comprehensive cash management solution, Loomis ensures they're delivering the best solutions for their customers, while staying in-tune with industry trends and challenges.
"We're continuously investing in our technology, infrastructure, and most importantly, our people to ensure we're delivering tomorrow's solutions today," says Lynch. "In the last year alone, we've invested over $35 million in capital reinvestments, including upgrading our facilities, processes, and training to drive quality for our financial customers, and we're continuing these investments into the future."
Learn more at Loomis' cash vault services.